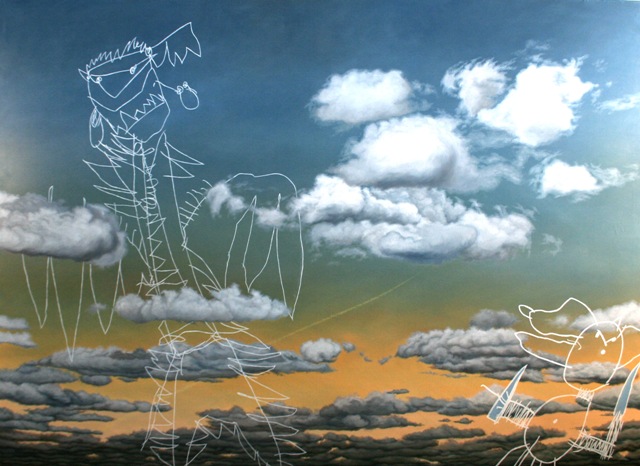 Running away, Oil On Canvas, 200 x 250 cm
These paintings are very close to Mads Rye's heart. They are painted together with his son Hampus and his daughter Ellen.
Rye has an affinity for children's drawings. Especially pre-school. He feels that such drawings often contain qualities of a very high artistic value.
Together with a natural feeling of positive appreciation, there is also for Rye an all too apparent feeling of jealousy and envy that his children can create such works of art with such simple, primitive contours and colours.
Because Mads Rye is a painter of high technical ability he is fascinated by the idea of bringing these two worlds together. He has, therefore, populated his landscapes with these beings from his children's imagination. This symbiosis works well, as these creatures come to life in the real world, so to speak. Or has the real world become unreal?
Mads Rye has experienced great success throughout Denmark with these paintings in an exhibition arranged by the Secretariat for Travelling Exhibitions and supported by the Danish Art Fund.
This series is ongoing .